I was driving down the coast towards San Francisco in the summer, stopped for a sandwich in a little town, popped into a secondhand bookshop and bought this: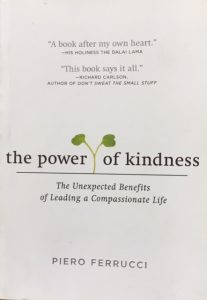 As you can see, it came highly recommended, by the Dalai Lama (not just recommended, he actually wrote the preface) and several reputable writers.
It turns out to be wonderful.  I have it by my bedside and the chapters are long enough to be interesting and short enough to get through before I fall asleep. Each chapter describes and reflects on a quality – humility, warmth, trust, belonging and so on, demonstrating how these qualities play to kindness and benefit life. The writing is simple and well structured, the material is both uncloying (if that's a word) and practical.
So, it's a lovely book.  But that's not my point.  I actually bought this book because of the inscription, which reads: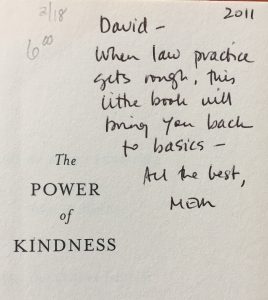 It is impossible not to imagine David, fresh out of law school being reminded, by a sister, an aunt, a friend, of the qualities that can get easily lost in that career; it's also hard not to worry about why this copy turned up in a second hand book shop.  Mem's inscription was why I bought it.
Looking up Piero Ferrucci, I see he's influential in the field of Psychosynthesis, an area a friend of mine has mentioned to me several times but I'd somehow failed to pay much attention to.  Putting these two leads together, I'm now thinking of doing the Psychosynthesis foundation course, and who knows where that will take me.
It's making me think about coincidence and influence, serendipity and synchronicity.  How one thing leads to another, and how we have control over our choices and also, sometimes, apparently none.  Funny old life.
How have apparently random choices led to unforeseen opportunities for you?